Meet Felipe Bauer DDS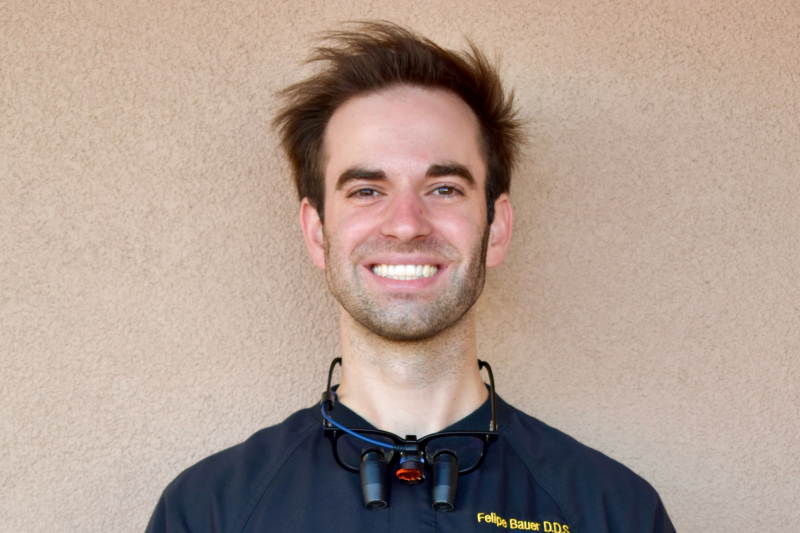 Dr. Bauer DDS - Dentist
Dr. Felipe Bauer DDS has been a proud resident of Tucson since elementary school, and is thrilled to be able to serve the community that raised him. He received his undergraduate degree from the University of Arizona, graduating cum laude and with honors. He received his dental degree from the University of Colorado School of Dental Medicine at the Anschutz Medical Campus in Denver. During these four years he received training on a wide range of traditional and modern dental techniques, with an emphasis on practicing dentistry based on clinical research and thoroughly tested clinical evidence. He took part in the highly regarded ACTS program during his last year of school that gave him the opportunity to rotate through various public health clinics all over the state of Colorado where he was given the opportunity to hone his clinical skills while providing dental care to critically underserved populations.

He is following in the footsteps of Dr. Graham and Dr. Miller by attending continuing education classes at the Las Vegas Institute, where they learn the importance of not only treating the teeth but the development of the jaw and its musculature and airway as well. Dr. Bauer benefited greatly from being raised in a bilingual household speaking both English and Spanish with his family and values the ability to therefore be able to communicate with Spanish speaking patients who might otherwise feel nervous about coming to the dental office.

Dr. Bauer is married to his wonderful wife Elizabeth and is forever grateful to have had her by his side throughout his undergraduate and dental schooling years. They have two adorable cocker spaniels at home named Mindy and Layla. Outside of work Dr. Bauer enjoys distance running and training for marathons, is an avid lover of cars and a recent mega fan of Formula 1 racing, and will most likely join your fantasy football league if asked!